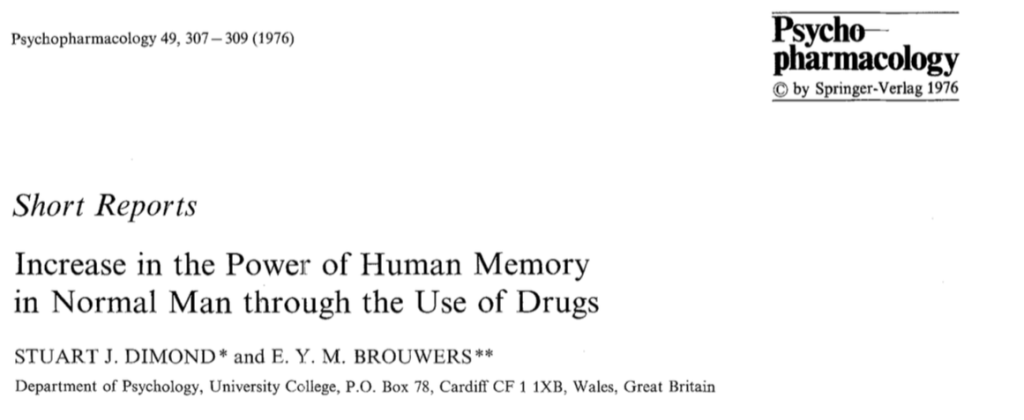 In this paper, Increase In The Power of Human Memory in Normal Man through the Use of Drugs, 16 students from University College in Cardiff, were given 1200 mg of Piracetam per day in a double blind study to determine if their memory would increase. This study is extremely important because it was done on healthy individuals, whereas most studies on piracetam and racetams in general were done on degenerate or pre-dementia type populations. The researches found that the administration of Piracetam promotes verbal learning" and it appears to be a substance which in certain respects is "capable of extending the intellectual functions of man."
This study was made up of three sessions, the first a pre-test before the drug was administered, then another the first week after drug commencement and another after the second week. The students were matched randomly and it was double-blind, meaning neither the subject nor the experimenter had knowledge as to which subjects were taking the drug and which were on placebo.
In the experiment, subjects learned a series of words presented to them. The words consisted of nine two-syallabic words of six or seven letters and were presented for 2 seconds each. After the last word the subject was required to wait 10 seconds and then had to write his response directly or perform a counting task  for 40 seconds, which was done to prevent rehersal (delayed task). The subjects saw six lists of nine words in each session. Three of the lists were asked to be recalled directly and three after the delay.
The results were pretty interesting and can be seen in the graphic below (Fig. 1). When the sessions were compared, it was found that performance in memory was not significantly different in sessions 1 and 2, but by the third session, the difference was highly significant.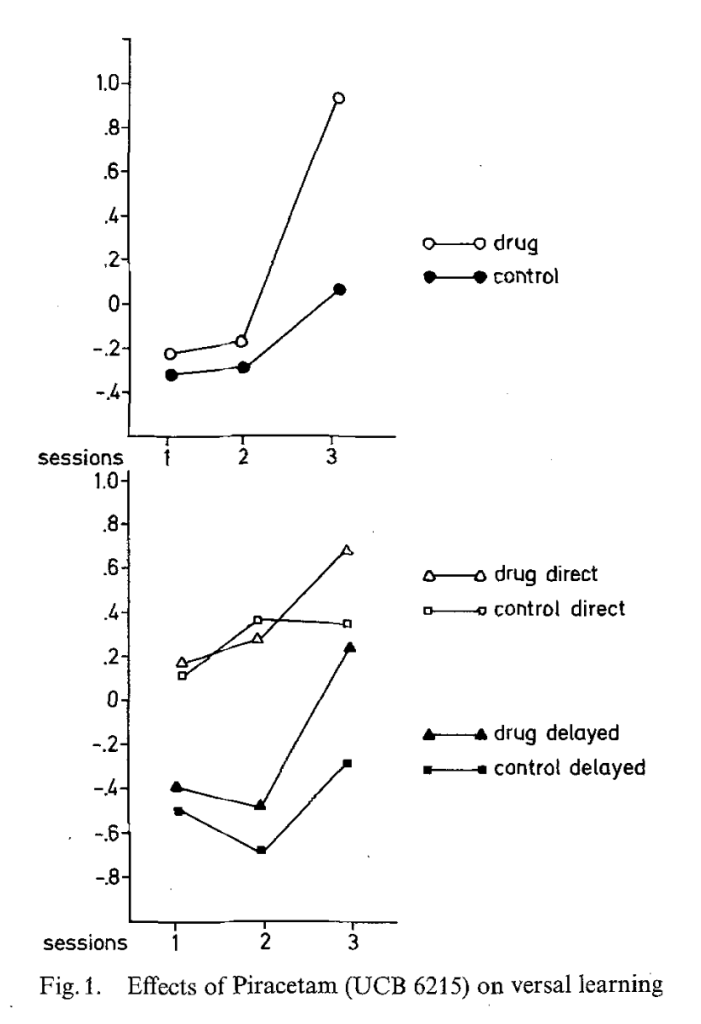 The bottom chart in the figure above shows the difference between answering directly and when delayed. The study found that with the introduction of this delay there is an overall decrease in performance by both groups, but in the group that took Piracetam, there was a "significant improvement."
The discussion of the study concludes that "the administration of Piracetam promotes verbal learning" and it appears to be a substance which in certain respects is "capable of extending the intellectual functions of man." This is pretty significant because the subjects in this study were healthy normal college undergraduates. Most of the research on drugs that aid the brain is usually carried out on people with existing pathologies and so when results are seen there, it is usually attributed to holding some pathology at bay, but here since the individuals are healthy, the effect is "essentially of enhancement of the mnemonic power of the brain by the action of the  drug upon the brain processes."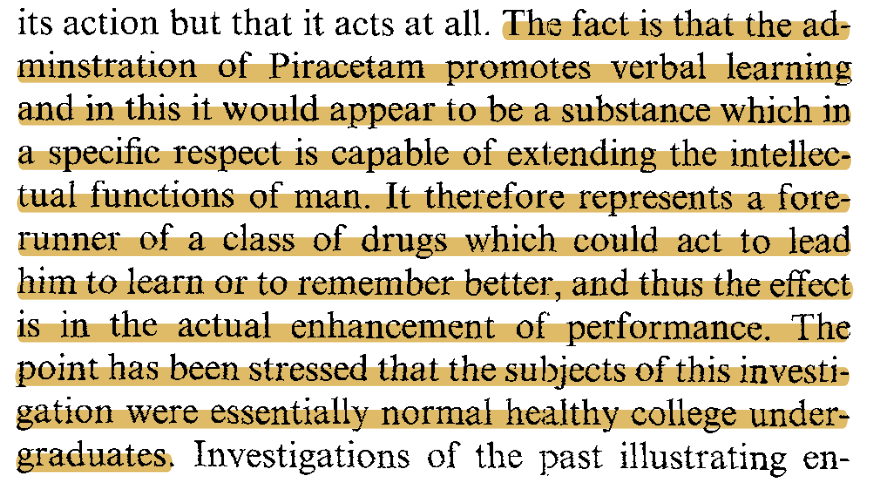 The paper also notes that even though these students IQs were not taken, by virtue of having gone through the admittance process to get to college they are already "individuals scoring in the upper intelligence ranges," yet with Piracetam it may be possible to "extend the power which they posses to still higher levels" even though "their achievement is already high."
They also note that Piracetam "represents a forerunner of a class of drugs which could act to lead him to learn or remember better, and thus the effect is in the actual enhancement of performance." They close the paper by noting that Piracetam did not enhance every facet of the brain, but it did have this positive effect on verbal performance, which is a major part of intellect and so they raise the question of what other substances there may be out there that can enhance the other aspects that "make up the constellation of human intellect."
Read the full paper below:
View Fullscreen